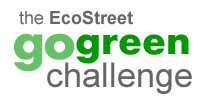 It's day 3 of the EcoStreet go green challenge. Today we challenge you to get yourself some reusable bags for your shopping. No more plastic bags!
Either buy some reusable bags at your local shop, or have a look at these beauties available online:

The good old 100% cotton string bag – these scrunch up really small to fit in your handbag or pocket so you'll always have one handy.
100% recycled tote bag – stylish and groovy.
Recycled bucket bag – it's big and it's 100% recycled.
Don't forget that we'll be giving away a copy of Sheherazade Goldsmith's book A Slice of Organic Life and an eco-nique carbon neutral leather MP3 case to the writer of our favourite story of how you got on with our go green challenge. Click here for details of how to enter the competition.
Don't miss day 4 of the EcoStreet go green challenge, subscribe to our feed now!