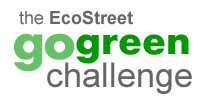 It's day 4 of the EcoStreet go green challenge!
Today your challenge is to change some of the lightbulbs in your home to low-energy lightbulbs. If you can afford to, change all of them, it will save you money in the long run. And it will save energy and reduce carbon dioxide emissions.
You can buy low-energy lightbulbs in many supermarkets, hardware shops, in IKEA and online at Natural Collection.
Don't forget that we'll be giving away a copy of Sheherazade Goldsmith's book A Slice of Organic Life and an eco-nique carbon neutral leather MP3 case to the writer of our favourite story of how you got on with our go green challenge. Click here for details of how to enter the competition.
Don't miss day 5 of the EcoStreet go green challenge, subscribe to our feed now!