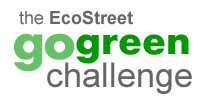 It's day 7 of the EcoStreet go green challenge! You've done a week of the challenge and reached the half-way mark.

Today we are challenging you to join Freecycle. It is a network of recycling communities all over the world. Wherever you are there's likely to be a group going in your area, sign up now!
Next time you have a clearout, don't take your stuff down to the local tip. Give it away to people who want it, and will come and take it away for you.
Don't forget that we'll be giving away a copy of Sheherazade Goldsmith's book A Slice of Organic Life and an eco-nique carbon neutral leather MP3 case to the writer of our favourite story of how you got on with our go green challenge. Click here for details of how to enter the competition.
Don't miss day 8 of the EcoStreet go green challenge, subscribe to our feed now!