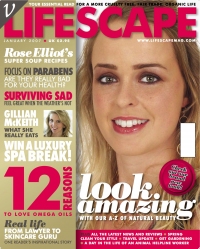 Today saw the start of a new weekly review at "EcoStreet at Lifescape". I'm delighted to be blogging on the Lifescape magazine website where I will be posting each Monday, summing up the eco-week.
There are a couple of other new blogs over at Lifescape, namely, Veggie Lady, an Edinburghian vegetarian; and Raw Reform, where Angela Stokes (no relation) is half the woman she used to be.
Lifescape magazine covers cruelty-free beauty, fairtrade fashion, ethical travel, alternative health and more, and is available from WH Smiths, Waitrose, Borders and local newsagents.