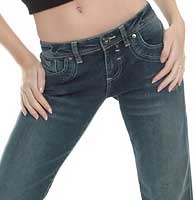 Have you always had to settle for a pair of jeans that gapes at the waist, or have you struggled to find a pair to fit your shape at all? I have. It can be rather frustrating, especially considering I live in my jeans. Here's some good news for people out there who'd like a pair of jeans that really fit, and are environmentally sound. UJeans let you design your own pair of jeans, based on your own measurements, and guarantee that they'll fit, or you can have your money back.
And are these jeans environmentally friendly? Well, they're made from cotton from the Pakistan Sustainable Cotton Initiative, the colouring process is free of harsh chemicals such as chlorine bleach, formaldehyde and azo, and the workers employed at UJeans' denim manufacturing facilities are being treated right and paid fairly.
UJeans cost US $140 a pop. Shipping is $10.00 within Canada, $15.00 for the US and $27.00 internationally.
All that remains to be said is, they're not Eugene's, they're mine!
Advertisement: Reduce your CO2 footprint by as much as 2 tonnes/year & save up to £150 on your energy bills.