Last summer I took my family on holiday to Wales and Cornwall and experienced the joys of the solar shower both at the Green Man Festival in the Brecon Beacons, and at Keveral Farm in the West Country. So I got thinking, why not switch to solar showers every time we go camping, or even for at home during the summer.
The shower that you can see on the left over here is the shower that we used at Keveral Farm. It's a wooden structure with an old radiator painted black as a solar panel warming water for the shower. There's a little bit of green shade cloth pinned to the wooden frame to protect one's modesty, but other than that it's very airy, and most exhilarating to use.
For something a little more temporary (and contemporary), check out this "plug and spray" Serpentine solar shower from Extremis.
Designed by Tom De Vrieze, the Serpentine can be used wherever you want. Plug your regular garden hose to the end of the stainless steel tube and your shower is ready for use. I'd say lying the hose out in the sun for a little while before hand would be sensible too. It's a great way to water your lawn and shower at the same time, saving water and energy into the bargain.
If you're more the McGyver type, then this DIY solar shower will be more up your street. It's from Mother Earth News and full instructions can be found there.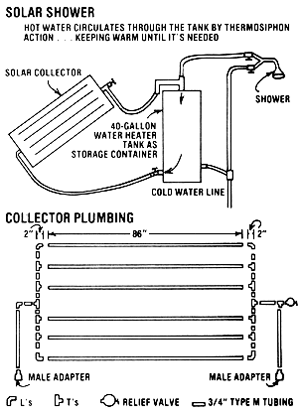 A simpler and cheaper solution would be the £8.99 portable solar shower option that folds away to nothing and you can store in your backpack when on the move, or just away in the shed at home for the cold winter months. When the summer comes, just fill it up and hang it in a tree. Once it's been in the sun for a few hours, you'll have a gorgeous hot shower.