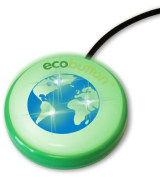 In these times of a tightening economy, sky high energy costs and rising food prices, UK households can weather the storm by going green – and save almost £400 a year on heating, electricity and grocery bills if they choose to live eco. Nigel of Nigel's EcoStore has put together a list of money saving products that can help you to save over £350 a year, with a first year investment of £150. Here are his suggestions:
Energy saving light bulbs
Saving up to £100 per year. Initial outlay from £7.99 per bulb.
"A good start to cutting energy bills is to replace old fashioned light bulbs with energy saving ones – householders can reduce their annual electricity bills by around £100 and save money on buying ordinary light bulbs. For instance, our 11 Watt compact classic light bulb, equivalent to a 60 Watt incandescent bulb, lasts 15 times longer so consumers won't have to fish out money for new ones every so often." – Nigel Berman, Nigel's EcoStore
Radiator booster
Saving up to £98 per year. Initial outlay £19.99.
"With radiators known for their inefficiency in distributing heat around the room, people tend to turn their thermostat up a notch using more gas, spending more money on heating bills in return and increasing their impact on the environment. By installing a Radiator Booster on top of their radiators, householders could enjoy significantly lower heating bills – by £98 a year – as well as warmer rooms. The booster's fans suck the warm air up and push it out through the ends distributing it evenly around the room, in addition to reducing the heat losses through the wall behind the radiator." – Nigel
Ecoballs
Saving you up to £74 per year. Initial outlay £29.99.
"When it comes to washing clothes, the average British family gets through 247 washing loads a year and with each costing about 33p, their yearly washing powder bill amounts to nearly £82. Although it doesn't seem like a lot, replacing it with Ecoballs costing 3p per wash, they could be saving a massive £74 a year." – Nigel
Ecobutton
Saves you up to £50 per year. Initial outlay £14.99.
"Householders could click themselves to even lower electricity bills by using an Ecobutton every time they take a break, as leaving a desktop computer on while not in use wastes around £50 a year on average. This great USB device that powers down computers at a touch of a button and will save them money, electricity and reduce their carbon footprint." – Nigel
Bye bye standby
Saving you up to £37 per year. Initial outlay £29.99.
"And because people are generally notoriously bad at turning things off, they burn away another £37 a year just by leaving TVs, stereos, DVD players and other electricity guzzling devices on standby. They could be saving this money for a rainy day by plugging the Standby energy saving kit into any wall socket to control any appliance (up to 1000W) with a remote control." – Nigel
Total annual saving £367 with £150.89 investment in the first year.
This post contains affiliate links.