On Christmas day what are you going to do with all that wrapping paper? Recycle it? Great. What about the cards? Give them a week or so and recycle those too, or maybe hang on to them for a year to use the front for gift labels next year? Terrific. The tree? In 12 days it'll be collected by the council, then chipped and composted. All well and good. Here's a little something that you can do with any boxes that may be coming your way this Christmas, before you recycle them that is. A fun activity to get the kids involved in while you're waiting for lunch to be ready, or if you're making lunch, or don't have kids, something to occupy your afternoon and keep you away from second helpings of Christmas pudding.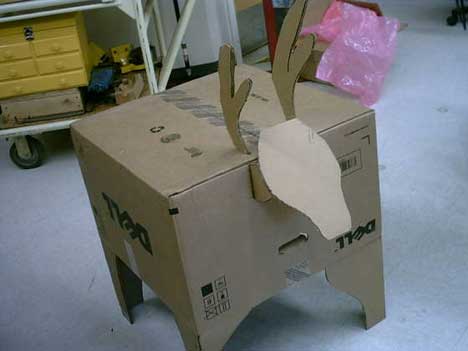 I love the instructables website, there are some amazing ideas. Here's how to make a reindeer out of a computer box (or any other box for that matter) for the kids (we all know how much little kids like boxes – they often prefer the boxes to the contents) for Christmas day entertainment. You may even like it so much that you'll decide to keep it (for a while anyway). When you tire of your reindeer, don't forget to recycle him.
Advertisement: Reduce your CO2 footprint by as much as 2 tonnes/year & save up to £150 on your energy bills.