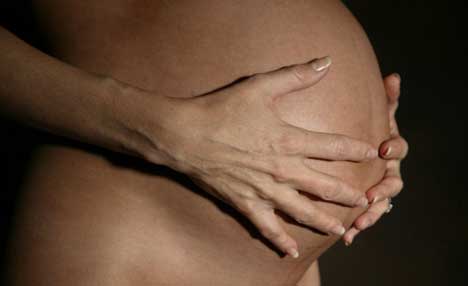 Becoming a parent is often the catalyst for becoming greener. Suddenly being aware that our children are going to be inhabiting a planet that we've helped to ruin could even turn our lives right around. Whether you're already conscious of the environment, or if you're new to green, join me for a journey through what it means to be a green parent, and how to be the very greenest parent that you can be.
Pregnancy
Being pregnant is wonderful, beautiful, magical and also downright confusing. Not only do you have bucket-loads of hormones coursing through your veins making you feel up one moment and down the next, you're also trying to make sense of the changes that are happening to your body and this sudden and incontrovertible responsibility for another, helpless, human being. One of the first things you can do to give your baby a good start in life is to limit the amount of chemicals and pesticides that you expose him (or her) to in-utero by making some lifestyle changes before or during your pregnancy. And you can protect your child's future by taking care of the environment at the same time. Fathers-to-be can support and encourage pregnant mothers by making these lifestyle changes too.
1. Eat organic
At the mention of organic food most of us think of fruit and vegetables. But during this essential period of your baby's development, take that even further. Meat, dairy, grains, even tea and breakfast cereals now have readily available organic options. Go for quality and grow your baby with nutrient rich foods that aren't laced with dodgy chemicals.
2. Clothe your bump in sustainable maternity wear
Trying to find eco-friendly maternity wear may seem tricky at first, but it's not. Firstly, the greenest maternity wear is second-hand maternity wear. If you have friends or sisters who have had their babies and are happy to pass on their maternity kit, lucky you. If you don't, stop in at the nearest charity shop or dress agency and see what they have to offer. You could also try eBay. If you can't find decent used maternity wear, there are some other options. Bamboo Baby sells a range of Big Tummy Mummy bamboo maternity wear including jeans, dresses and tops, and their can't-do-without belly band that will enable you to wear your pre-pregnancy tops all the way through your pregnancy without getting a chilly belly or feeling exposed. Bamboo makes a wonderfully soft fabric and is sustainable because it grows so fast and uses far less water to grow than cotton. When you do opt for cotton, make sure it's organic. You can even get organic maternity wear on the high street these days.
3. Pamper yourself
There's no time in a woman's life where she deserves more pampering and kindness than during the long months of pregnancy. It's a tiring business growing a baby and uses up your energy reserves. Recharge yourself by getting plenty of rest, and stay comfortable in bed with a maternity pillow (which will come into its own again once your baby is born for feeding support). My maternity pillow kept me, and then my daughter, comfortable for over three years. It was a great investment.
Get your partner to give you a relaxing massage with organic massage oil, and treat your skin to some extra moisture to help keep the stretch marks at bay. Lovely calming smellies are just what the doctor midwife ordered, and one of my favourite gifts that I was given during my last pregnancy was a Neal's Yard Mother-to-be Box.
4. Stop at two
It's seen by some as controversial, but a population report published in 2007 suggests that the UK needs a two-child limit to stabilise the effect on the environment of our growing population. In my opinion it's a reasonable ask, replace yourselves (you and your partner) and then stop, so that the children that we do have aren't subjected to living in a grossly overpopulated world. Some will argue that having no children is the only way to be truly green, but as a parent myself I prefer to think of it as my sacred duty to raise the next generation of eco-warriors.
Don't get bogged down with all the stuff
When you're pregnant you're a marketing opportunity. Every time you turn a corner there'll be an enterprising somebody trying to sell you something to make your life as a parent easier. And we know that parents need all the help they can get, right? Wrong. The truth is that you just don't need half of the paraphernalia that they're going to tell you is indispensable. Simplify, simplify, simplify.
So what do you really need? You need somewhere for your baby to sleep, something for your baby to wear and something to feed your baby. Keep it simple, and then add on extras when and if you need them, you may just find that you don't.
1. Sleeping arrangements
Some folks like to co-sleep and others like their babies in another room. I'm not going to pretend I know which is best for you, but whichever you decide to do, think second-hand cots, or at the very least cots made from reclaimed wood or FSC timber. If you buy a second-hand cot, spend the pounds that you'll have saved on a natural mattress and organic baby bedding.
2. What to wear
My first piece of advice for dressing a baby is to keep your eyes and ears open for offers of hand-me-downs. Not having to buy new clothes for your child will save you plenty of money, and reusing baby clothes (they really don't see much wear on small babies) is a great way to preserve resources and keep good clothes out of landfill. If you can't lay your hands on used baby clothes one way or another, don't worry. There's so much choice in organic baby wear these days that the mind boggles.
How's this for an original idea? Dress your baby in one of your old jumpers. If that just sounds silly, check out this video for inspiration on how you could recycle something of yours for your baby.
3. Nappies
There's plenty of confusion (and contention) when it comes to the nappy question. The choices are real (or re-usable) nappies, disposable nappies or eco-disposable nappies. If you have any designs on being a green parent, then scratch disposables from your list right now and make your choice between real nappies and eco-disposables. According to the Women's Environmental Network choosing real nappies could save you up to £500, will prevent an awful lot of waste going to landfill and is best for your baby's health.
4. Feeding
For the first few months, you don't need plastic, plastic and more plastic to ensure that your baby gets fed. Boobs are just the thing to keep babies happy and full, and they don't require sterilising or special preparation. Baby food, at the right temperature, no matter where you are is one of the biggest advantages of breastfeeding. Another one is that you're not propagating the manufacture of zillions of plastic bottles and other bottle feeding accessories, and creating loads of feeding paraphernalia waste to end up in landfill. Breast is best for baby too, with loads of health benefits. Oh, and as I mentioned before, you can reuse your maternity pillow as a feeding cushion to keep you and your baby comfortable while you feed. It's so important for dad's to really get behind breastfeeding too and give their support. Starting breastfeeding can be harder than you think and supporting mom's through the tricky bits is a great way for fathers to make a contribution to early feeding.
5. Getting around
You don't need two different types of baby buggy and three different car seats for various stages of your baby's development. With a bit of careful consideration you can minimise equipment and still get around easily. To start with and if you have a car you will of course need a car seat. It's not recommended to buy these second-hand for safety reasons, so my advice would be to buy a seat that will last from newborn (with a newborn insert) to age 4. You just don't need one of those car seats with a carrying handle if you have a baby sling, and your back will thank you. Slings are great because they're such a natural way to carry babies, they don't include large amounts of plastic (which will end up in landfill) and they're quite affordable, whether you buy one or make your own. When you decide you need a buggy, buy one second-hand at an NCT nearly-new sale or online at eBay, or get one for free via Freecycle.
So, now you've conquered the marketeers and acquired most of your baby kit second-hand, you're well on your way to being an eco-friendly parent. After scaling the heights of stuff-avoidance, you'll probably find the rest of the journey as easy as (organic apple) pie. Stay tuned!
Image by Johan Cloete
Advertisement: Reduce your CO2 footprint by as much as 2 tonnes/year & save up to £150 on your energy bills.