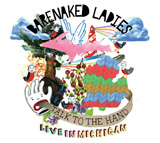 Barenaked Ladies are known for their environmental activism, and so it's only natural that their latest release: Talk To The Hand: Live In Michigan would be offered up in environmentally friendly packaging. The 6-Panel CD Folder holds both a CD and DVD along with a 6-page booklet. The folder is printed on Cascades Prokote paperboard which is made of 100% recycled fibres and up to 55% post-consumer recycled material. Additionally, the board is processed chlorine free, is recyclable and biodegradable, and the inks used in the printing are vegetable based.
We've got a copy of the Talk To The Hand: Live In Michigan album to give away to a lucky reader. To enter the giveaway, simply enter your details on the form below. The draw will take place on the 15th December 2007 and the winner will be notified by email. If you can't wait and would like to buy the album now, click here if you're in the US, or here for the UK.
Enter the competition
Advertisement: Reduce your CO2 footprint by as much as 2 tonnes/year & save up to £150 on your energy bills.