Committed green warriors pride themselves on limiting their negative impact on the environment, but they often forget about the damage that power-hungry laptop PCs can do to the Earth. We all use computers daily and those machines tend to suck up a lot of juice. In addition, toxic chemicals and elements are often used in the manufacturing of those computers. But it's possible to find a solid machine that's both powerful and green without breaking the bank. Here are three laptops that are easy on your wallet and your conscience.
Sony Vaio W Series
The Sony Vaio W series of laptop computers are fine when it comes to performance versus power consumption. Like most netbooks, they're powered by the Intel Atom line of CPUs, and offer decent bang for the buck. In addition, they're incredibly portable and feature up to 8 hours of battery life. But the real reason they made the list is because they're quite simply the most environmentally friendly computers on the market today. Over 80% of the plastic components are made from recycled materials, the LED screens are 100% mercury-free and they're shipped with the smallest amount of packaging material possible.
Gateway EC19C-A52C/S
Watt for watt, this little notebook the Gateway EC19C-A52C/S might just be the most efficient laptop you can get your hands on. It features a 1.33 GHz Intel Core i5-470UM CPU, 2GB of DDR3 RAM and a spacious 320 GB hard drive for less than $800. The gorgeous 11.6″ LED screen supports a surprisingly clear 1366 x 768 picture resolution, and there are also plenty of USB ports for all your peripherals if you need them. In spite of all that power-hungry hardware, the EC19 can still manage to get up to 6 hours of battery life per charge.
ASUS U43JC-X1 [Natur.e] Bamboo Series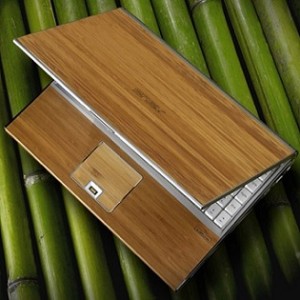 If you're looking for some green street cred and a great machine at the same time, there's no better laptop than this Asus Bamboo Series model. The outer shell is a mixture of actual bamboo and brushed aluminum, which cuts down on the use of plastic. Boasting an Intel i5-450M processor, an Nvidia GeForce 310M graphics card and 4 GB of DDR3 RAM, the U43 has the kind of firepower that can handle anything you throw at it. Battery life is similarly impressive, allowing it to run for up to 10 hours off of a single charge.
Finding the Greenest Laptop
More and more consumer electronics companies are making the effort to "go green" and embrace responsible and Earth-friendly manufacturing technique, improving technology is a big part of that. There is also a big resurgence in Eco ISP's giving you your high speed internet so check out your supplier to see what green measures they are implementing. Low-powered ARM processors that are found in many phones and tablet PCs deliver respectable computing power while using a fraction of the electricity. When buying a laptop in the future, opt for a model with a less powerful CPU. You'll save money on energy costs over the long haul, and you won't miss the extra muscle for most everyday computing tasks.