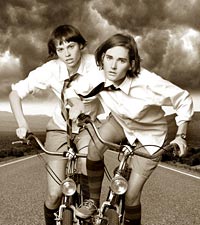 Spinner.com have put together a list of the Top 10 most extreme green musicians. Their countdown is:
No. 10 – Dave Matthews Band: They've offset 100% of their carbon emissions caused by touring since 1991, and helped scatter free bikes around Charlottesville, Virginia as part of the Community Yellow Bicycles Program.
No. 9 – Orbital: Recorded songs using solar electricity, and sneak environmental commentary into song lyrics.
No. 8 – Neil Young: A pioneer in veggie-fuelled touring, and anti-war protester.
No. 7 – Peter and the Wolf: These guys tour by boat.
No. 6 – Bonnie Raitt: A founding member of Musicians United for Safe Energy, amongst her other green endeavours.
No. 5 – Sarah Harmer: Co-founder of environmental group called PERL (Protecting Escarpment Rural Land) to help protect those and other wild lands from human destruction.
No. 4 – Cloud Cult: These guys are eco-friendly, right down to the details. "They package CDs in recycled jewel cases, each of which is hand-cleaned by the band members themselves. All CD inserts are printed with nontoxic soy inks on recycled paper, and CD shrink wrap is made of nontoxic biodegradable corn cellulose. This is all done on an organic farm, where Earthology's headquarters are heated entirely with geothermal energy."
No. 3 – Pearl Jam: Co-founders of the Carbon Portfolio Strategy, they also offset carbon emissions caused by touring.
No. 2 – Jack Johnson: He works out of an eco-friendly building, and has co-founded an environmental education program in Hawaii.
No. 1 – Ditty Bops: These ladies tour by bicycle. That's pretty extreme green.