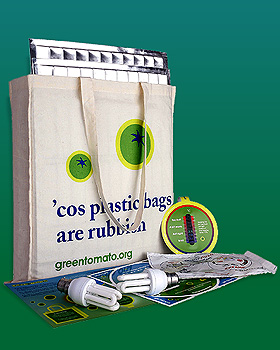 Do you want to start living a greener life but don't know where to start? There's a lot of encouragement out there these days from councils collecting your recycling to the rising cost of energy prices. And now the guys who brought us London's first eco-friendly taxi company have put together an energy saving kit to help get you on the road to being greener.
The greentomatokit can reduce your yearly energy consumption by 400kg of CO2, which is the equivalent of 17 car
journeys from London to Bristol. You can also save up to £100 a year by using the contents of the kit, and considering that the kit costs a mere £9.99, that's a very good deal.
The kit contains items that have been sourced for their ability to be used in all homes, their net environmental benefit, their ease of use, and their ability to save you money:
a reusable cotton shopping bag
two energy saving lightbulbs
two radiator panels – to reflect heat back into the room, increasing the radiators output by 10%
a water saving device – to save a litre of water every time you flush
a room temperature thermometer
"no junk mail", "turn it off" and "recycling" stickers – because sometimes we all need a reminder
These kits are a great starting point to going green, and would also make a good gift for others who you'd like to encourage to become greener. You can buy them direct from greentomato.org, or you could enter our giveaway for a chance to win one of five greentomatokits.
This competition is now closed.