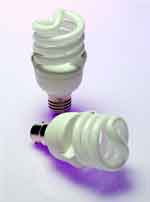 If you're one of the thousands of people who've been looking for energy saving light bulbs that are dimmable, today is your lucky day. Nigel's Eco Store now stocks the world's first dimmable low energy light bulb by DigiFlex. And here's the interesting part, there are two varieties, one that works with a standard dimmer switch, and one that works with an ordinary light switch. So, if you've always wanted a dimmer switch but never got around to having one installed, you can create the mood you want without having to pay an electrician. Here's how it works: flick the switch on and off, putting the bulb into a dimming cycle, flicking the switch again to stop it at the level you want. Easy as pie!
These light bulbs are available in screw and bayonet fittings, and are priced from £10.99. Each will save you up to £100 and half a tonne of CO2 during its lifetime.
Advertisement: Reduce your CO2 footprint by as much as 2 tonnes/year & save up to £150 on your energy bills.