I've just been trawling through the 50 websites that TIME.com are calling the "Best Websites of 2008" and am struck by the lack of green websites on that list. Considering that climate change is probably the biggest threat we as the human race face, and that we in the West are by now quite aware that it's our way of conducting our lives that is causing the problem, it's pretty astounding that there just aren't more great websites out there that are guiding and helping us in an effort to change our ways. Or are there?
TIME.com included CarbonRally.com and Apartment Therapy as the only green sites worthy of a mention in their "50 Best". Afrigadget.com was another site that could fall into this category, but that, according to TIME.com was the limit to great sustainability sites in 2008.
Move over TIME.com, here are EcoStreet's "Best Websites of 2008", an eclectic mix of sites old and new, and they're a far greener best than yours. I'm adding another 7 sites to TIME.com's 3 to make it a Top 10.
Global Warming: Early Warning Signs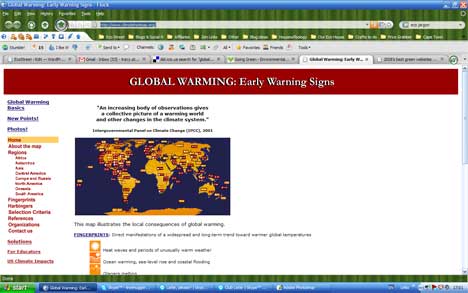 If you think that global warming hasn't already started, think again. Global Warming: Early Warning Signs provides hard evidence of how the earth's climate is already changing.

Ideal Bite
These sassy ladies are a delight to folks of all shades of green. Ideal Bite's daily tips to get some green into your life are current, hip and inspiring, and a delight to find in your email inbox.
Playgreen
A green living Wiki. Anyone can get actively involved at Playgreen to help others learn how to live green.
Green Thing
Be encouraged to do one "green thing" a month by the Green Thing community's hilarious videos. For a taster, watch this video.
The Freecycle Network
The concept behind Freecycle has been around forever. You give what you don't want to someone else who wants it, and that way it doesn't end up in the bin. The Freecycle Network has harnessed the power of the internet to make it so much easier to find someone who wants your old stuff. The Freecycle idea may not be a new one, but it is here to stay.
The Daily Green
A great quality, daily updated magazine-style green site that's accessible to all. The Daily Green doesn't baffle you with incomprehensible eco-jargon, it provides practical and realistic suggestions and ideas.
Breathing Earth
Watching the Breathing Earth website's simulation of our carbon dioxide production and the world's birth and death rate puts me in mind of James Lovelock's Gaia theory. It depicts the earth as a living organism that breathes. A visit to this website leaves no doubt that we're creating problems on our own planet.
!List Update! – David Tryse's Google Earth Files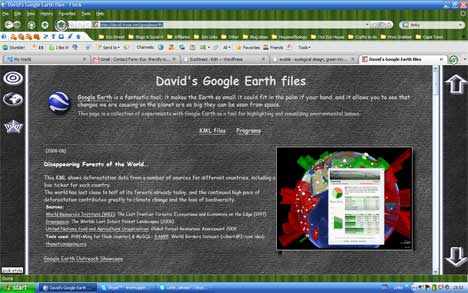 David Tryse is the chap who's taken the trouble to map out on Google Earth: the earth's disappearing forests, the worst oil spills in history, where the most endangered animals live, biodiversity, tribal lands and national parks. An amazing view of what's really happening to our planet.