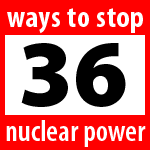 Our government supports the building of new nuclear power stations across the UK as a means of securing a future energy supply. But instead of "bridging the power gap" between fossil fuels and renewables, this means we'll be creating tens of thousands of tonnes of hazardous radioactive waste which will remain dangerous for a million years.
If you need convincing, watch this video.
No 2 Nuclear Power suggests 36 ways to help stop nukes (but still help combat climate change):
1. Get Informed
2. Stay Informed
3. Respond to the Energy Review
4. Write to Alan Johnson
5. Write to Gordon Brown
6. Write to your MP
7. Write to your MSPs
8. Write to your AMs
9. Ask your MP to sign EDMs 1564 and 1565
10. Sign a Petition
11. Join your local campaign
12. Buy Green Electricity
13. Give up your incandescent light bulbs
14. Put more insulation in your loft
15. Insulate cavity walls
16. When replacing electrical goods buy energy efficient
17. Save energy around the house
18. Install micro-CHP or gas condensing boiler
19. Install a small wind turbine
20. Install a solar water heating system
21. Install solar pv panels
22. Install a ground source heat pump
23. Install a micro-hydro system
24. Install biomass heating
25. Ask your MP to support the Climate Change and Sustainable Energy Bill
26. Ask your MSP to support the Energy Efficiency and Microgeneration Bill
27. Lobby your council to promote micro-generation
28. Lobby your council to sign the Nottingham Declaration
29. Lobby your council to join solar cities
30. Lobby your council to become a nuclear free local authority
31. Write to the Newspapers
32. Say yes to wind
33. Embrace the revolution
34. Take action to support WWF's climate change campaign
35. Take Action to support Greenpeace's Climate Change Campaign
36. Make a small donation
Join the Facebook Nuclear Energy group to keep on eye on what's happening with nuclear energy in the UK.
Advertisement: Reduce your CO2 footprint by as much as 2 tonnes/year & save up to £150 on your energy bills.