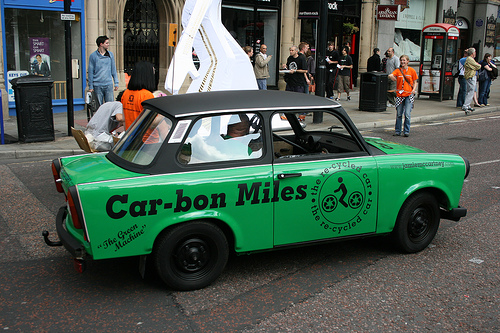 When petrol prices peaked at around £1.30 a litre in 2008, more drivers became conscious about the expense associated with motoring. As a result many looked at more fuel efficient vehicles – the majority of which offer the added bonus of being much more environmentally friendly.
There are a number of different types of `green cars` on the market including:
Hybrid cars
Vehicles such as the Toyota Prius and the Honda Civic IMA, combine traditional petrol power with an electric motor. They use an on-board battery and a fuel powered source to gain propulsion and recycle energy through a process called regenerative braking.
Electric cars
Charged at home and capable of running up to a certain mileage range. Current models such as the G-Wiz, NICE Mega City and Quiet Car 1 have limited range making them best suited to inner city driving. They are zero emission vehicles if the electricity comes from renewable sources because they don`t produce any harmful emissions of their own.
Fuel cell cars
A gas, normally hydrogen, combines with atmospheric oxygen in a fuel cell creating a reaction that converts into electric power used to power the vehicle. Early models include the Honda FCX Clarity.
How do you insure an eco friendly vehicle?
Generally, car insurance costs for green cars are high because their parts are more unusual and as such they can cost more to repair. However, as these vehicles become more popular car insurance companies are beginning to offer incentives to eco-friendly drivers on the realisation that they are often safer drivers too – for example, an eco-friendly motorist is unlikely to travel at the faster speeds that pump more carbon dioxide into the atmosphere.
Incentives include:
Percentage discounts if you drive a greener car or travel for a reduced mileage.
Percentage of profits donated to green charities.
Fitting a green box in your vehicle. Providers may fit a box in your car which effectively monitors your driving and offers feedback on the journeys you make including how to reduce carbon emissions and drive in a more eco-friendly manner.
Can car insurance help to reduce your environmental impact?
Several car insurance companies are attempting to tap into the green market by offering `carbon offsetting` schemes.
Carbon offsetting involves calculating your emissions and purchasing an equal (or a percentage of, depending on the agreement) number of `carbon credits`. These are carbon reduction projects around the world such as replenishing the rainforest or building wind farms.
The idea is that the project will remove an equivalent amount of carbon to the amount of carbon credits the insurer has to sell. So for example, if one carbon credit is the same as one tonne of carbon dioxide then if a wind farm prevents 10,000 tonnes of carbon dioxide from being emitted into the atmosphere it will have 10,000 carbon credits to sell.
Therefore, the impact of your driving – which for most is unavoidable – is effectively 'wiped out' by the fact that the insurer is cutting out carbon dioxide emissions with other projects.
Who is eco-friendly car insurance right for?
Some critics of eco-friendly insurance have labelled it a gimmick as policies can be expensive. The argument is that drivers may be better off finding the cheapest car insurance and putting the money they save towards an environmental project of their own choice.
If you don't trust yourself to donate on your own, but want to ensure you do your bit for the environment, then shop around for car insurance from specialist insurers including The Green Car Insurance Company, ibuyeco and CIS.
Photo credit: BinaryApe