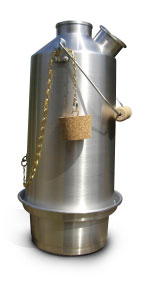 I bought a Storm Kettle from Natural Collection for my husband at Christmas last year, and we've been so impressed with it that I thought I'd give it a little write-up here. It came in very handy during a power failure a few months ago, and is number one item on our packing list for when we head off to The Green Man Festival.
This is why it's such a great piece of equipment…
It boils 2.5 pints of water within a few minutes using only a ball of newspaper and some twigs (or whatever else you have handy). The kettle consists of a fire pan and a kettle which has a conical chimney through its centre, making it extremely efficient at boiling water. It's ideal to use at the allotment, for camping, at festivals, and you can even use it at home to reduce your electricity usage by burning bits of garden waste. It works fine in windy or wet conditions too. You can get a 2.5 pint Storm Kettle from Natural Collection for £49.50. Highly recommended.
[sellfire id="513766940c888c0f84b0e00c" name="Storm kettle"]