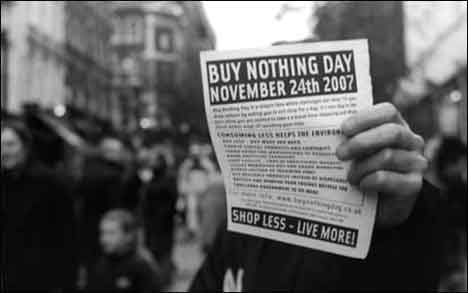 We're giving you a whole month's notice to prepare for this year's Buy Nothing Day. In case you're new to it, Buy Nothing Day is one day out of the 365 days of the year when you challenge yourself, and your family and your mates to stop shopping for a whole 24 hours. That's right, 24 hours when you put your purse/wallet away and detox from consumerism. Just in time for Christmas! And that's not without reason, because after your 24 hour consumerism full-stop, hopefully you'll put some more thought into mindless consumption during the season of excess.
How do I take part?
Participate by not participating. Very paradoxical, very Zen. If you can't stand the absurdity of it all, here are some things that you can actively do:
Send a postcard to a friend to promote Buy Nothing Day 2007.
Get a new desktop background to remind yourself to participate in Buy Nothing Day.
Organise an event. There are plenty of ideas to get you started in the Buy Nothing Day Toolkit. Have fun and let us know what you got up to!