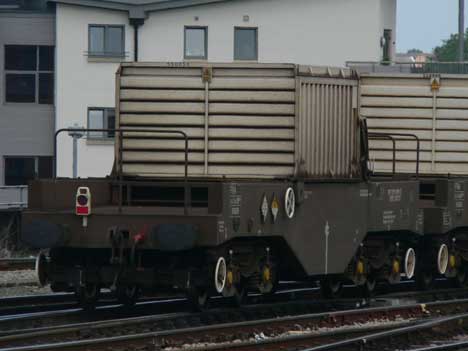 Photograph by Chris McKenna
This is a guest post by Pete Roche, editor of the No2nuclearpower website.
The Westminster Government completed yet another nuclear consultation on 2nd November. (1) This one was not about building new reactors, but how to get rid of the mess they leave behind, so was no less crucial to the nuclear industry's expansion plans. It was the most recent stage in the "Managing Radioactive Waste Safely" process which began in 2001 as a progressive stakeholder consultation exercise, but after a series of misjudgements it now looks as though the Government may be about to pluck defeat from the jaws of victory.
In the first half of 2008 the Government will announce its new policy – most likely based on the idea of offering "community benefit packages" – bribes to you and me – to persuade communities to volunteer to host a nuclear waste dump. Then the search for a site will begin in earnest with an invitation to communities to express an interest in taking part in the siting process.
The history of government schemes to deal with this extremely dangerous waste has been a disaster going back as far as 1976 when eight sites were first selected for an underground dump. (2) The "Managing Radioactive Waste Safely" process looked as though it might work – having been based for the first time on much more intensive public consultation. But this latest stage which began in June 2007 got off to an inauspicious start. The House of Lords Science and Technology Committee called for it to be delayed because the institutional framework being proposed by the Government was "incoherent and opaque". (3) And in an unprecedented move the Scottish Government refused to endorse the process at all saying it ruled out allowing deep disposal in Scotland. (4) (5)
The crux of the problem is that the Government has ignored important recommendations of the Committee it set up to look into the nuclear waste problem.

The Committee on Radioactive Waste Management (CoRWM), established at the start of the process in 2003 (and reconstituted with almost completely new membership in 2007) recommended after three years' deliberation, that deep disposal of nuclear waste was the best option. (6) But it also made other important recommendations which the Government has ignored. Most importantly it recommended that, because of the uncertainties surrounding the implementation of geological disposal, there should be a major R&D programme on both geological disposal and robust interim storage. There has yet to be any visible progress in this area. (7) Interim storage could be needed for at least 100 years, but there is also a risk of delay or failure of the repository programme. CoRWM also recommended a review to ensure the security of waste stores particularly against terrorist attack.
A year after the CoRWM report, the government is still ignoring its advice. It has eagerly accepted what it sees as the solution of deep geological disposal, but it has done little to address the vital prerequisites. (8) Storage has its own significant problems but represents the least worse option as it allows, rather than removes, choice for future generations, rather than subjecting them to a potential long-term radiological risk – a leaking nuclear waste dump. The only conclusion to be drawn is that the Government is trying to create the impression that it has a solution to the nuclear waste problem to further its aim of building a new generation of reactors.
The recent consultation fails to make clear that CoRWM's recommendations deal only with legacy waste, and it also creates this misleading impression that other countries have successfully built a repository for this kind of waste. (9) CoRWM said it takes no position on the desirability or otherwise of nuclear new build, and that future decisions on new build should be subjected to their own assessment process. It specifically said it did not want its recommendations seized upon as providing a green light for new build – yet that is exactly what the Government has been doing. CoRWM warns that new build waste would extend the time-scales for implementation, possibly for very long but essentially unforeseeable future periods. Creating new nuclear waste raises completely new political and ethical issues which are quite different from the issues raised by the waste we have already created.
When The Guardian pointed out in June that West Cumbria is still widely seen as the favourite to host a waste dump (10), this prompted Chris McDonald, the lead inspector of the 1995-96 public inquiry into the proposed nuclear waste facility near Sellafield, to write highlighting evidence from the Inquiry showing the safety case was at best marginal. (11) Investigations should be moved elsewhere, he said. David Smythe, professor of geophysics at Glasgow University warned it would be "wrong" and possibly illegal in international law to use Sellafield which should have been ruled out Sellafield after previous research proved the area was unsuitable. There is clear evidence that West Cumbria possesses no suitable rocks. (12) But the Treasury is reported to be worried that Copeland Borough Council in West Cumbria may be the only Council which applies giving it the ability to hold the taxpayer to ransom demanding extra funding of perhaps as much as £1bn. (13)
CoRWM has been at pains to point out that it built up a fragile trust after three years of open and transparent dialogue with stakeholders and the public. But now it is "not persuaded" that the re-constituted CoRWM will ensure a continuation of public trust. A series of other misjudgements by the Government do not bode well either. For example Nirex was killed off without any consultation. Its incorporation into the NDA in what Nuclear Engineering International magazine called a rather "ham-fisted" and secretive way, left the process open to legal challenges, and a real danger we will see a "re-run of the last repository failure". (14)
The Government says spent fuel from new nuclear power stations could be accommodated in the same geological disposal facility as existing waste – even though this might increase the total radioactivity by a factor of up to five. (15) CoRWM's view is that communities are unlikely to express a willingness to participate in a process that might lead to them becoming a host for a nuclear waste dump when it is unclear how much waste the community might be expected to accept.
Gordon Mackerron warned the Scottish Government against cherry picking from CoRWM's "interdependent and inseparable package of measures" lest the whole ball of string unravels, setting us back to where we were before CoRWM was formed. (17) It now looks as though it is not the Scottish Government threatening the integrity of CoRWM's recommendations, but the UK Government, which has thrown away the trust CoRWM painstakingly built up in its haste to justify the case for building more nuclear plants.
The no2nuclearpower website is in urgent need of funds to stay afloat. Now that Gordon Brown has made it clear he will give the go-ahead to new reactors -probably at Sizewell in Suffolk, Bradwell in Essex, Dungeness in Kent and Hinkley in Somerset – our mix of news and analysis will be needed more than ever by anti-nuclear activists all over the UK. Please send cheques, made payable to "no2nuclearpower", to Pete Roche c/o Friends of the Earth Scotland, Thorn House, 5 Rose Street, Edinburgh EH2 2PR or you can make a secure credit card donation via PayPal.
(1) Managing Radioactive Waste Safely: A Framework for Implementing Geological Disposal, DEFRA, 25th June 2007.
(2) See History of Nuclear Waste Disposal Proposals in Britain, by Pete Roche
(3) Radioactive Waste Management: An Update, House of Lords Science and Technology Committee, June 2007.
(4) Nuclear Engineering International 25th June 2007
(5) Scottish Government Press Release 25th June 2007
(6) Managing our radioactive waste safely: CoRWM's recommendations to Government, July 2006.
(7) Future R&D Needs, by Gordon MacKerron, CoRWM, June 2007.
(8) Guardian 12th September 2007
(9) Greenpeace Response to the MRWS Consultation 2nd Nov 2007
(10) Guardian 25th June 2007
(11) Guardian letters 28th June 2007
(12) Guardian 2nd Nov 2007
(13) FT 24th October 2007
(14) Corrina Thomson, Who shot the sheriff? Nuclear Engineering International, July 2007.
(15) CoRWM's Radioactive Waste and Materials Inventory, July 2005
(16) Scotsman 30th June 2007
Advertisement: Reduce your CO2 footprint by as much as 2 tonnes/year & save up to £150 on your energy bills.