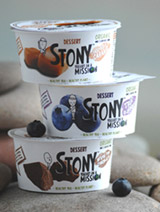 Now yoghurt is not only good for you… It's good for the planet too! Stony Yoghurt is yoghurt on a mission. Stony launched last month in the UK, as the very first healthy planet brand in the country, and is one of the sponsors for Live Earth.
Stony Yoghurt is a product of Stonyfield Farm, award winning US company and the first to offset its carbon emissions. Stonyfield is continuing its good work in the UK by sourcing milk for its Stony Yoghurts from local organic farms and making sure that all packaging is recyclable and from sustainable sources.
To celebrate their launch in the UK, Stony Yoghurts will be giving away 6 eco-getaways so that some lucky eco-warriors can take time off to reconnect with Mother Nature. Enter here.