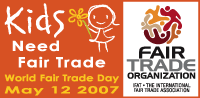 As World Fair Trade Day 2007 is just around the corner, let's have a look at what some of our old Fair Trade friends are doing, as well as taking a peek at what's on offer by the Fair Trade companies that are new on our radar. The theme this year is "Kids need Fair Trade".
Let your kids help you spread the message by wearing one of People Tree's unexploited tee's, available on their website for £12 in sizes 3-4, 5-6, 7-8 and 9-10 years.
Racadillo sell a range of Fair Trade toys, and support King World School in Zambia, working towards building a community school for AIDS orphans and street children.
Two cool new Fair Trade producers on the EcoStreet radar are Tam & Rob and Chandni Chowk, both bringing us fashion that's as ethical as it is gorgeous.
What can you do to help support Fair Trade?
Buy Fair Trade products.
Tell shops and companies you want Fair Trade products.